Home layouts are in a constant state of flux, particularly with the today's world is becoming ever more technologically advanced. When we talk about modern industrial living room ideas, the dominant features that many designers have observed is the idea of exposure; raw, metal products, open warehouse details paired with classic design elements like exposed wiring and wooden or concrete beams really give charm to home designs.
Industrial living room decor ideas provides a chic, sophisticated vibe, and it never goes out of style. Read more and check out the photos of some beautiful industrial style inspired living room designs.
1. Black Themed-Modern Industrial Living room Ideas
If you're in love with a minimal yet aesthetic look, opt black living room and set it up with a brown leather sofa. This room design gives industrial contemporary living space with these open ducts leaving the ceiling naked and raw with distress lights.

This mezzanine floor allows you to catch a birds-eye view of your warehouse-style living room, kitchen, and dining. And this design style takes your home to the next level, even beyond your expectations.
2. Exposed Brick Wall Industrial Style living room
Brick walls are also synonymous with industrial-style living room interior design and decor. Back in the '70s people loved a raw and unfinished look, nowadays people choose exposed brick because of its modern and contemporary feel also to inject flair or focus into their living spaces.
For a retro look in your living room, try using old-school materials and  elements that can add character and a new level of functionality to your home's interior. In this example, this brick wall and exposed beam are connecting lounge dining room and it is totally effortless. Industrial furniture also plays an influential role in bringing a vibe into the living room. Like this coffee rolling table with wheels injecting that vintage industrial touch in the living room. 
Brown leather sofa with accent chair and coffee table is adding sophisticated vibe to home interior design.
3.Grey industrial living room Ideas
The right lighting can make or break a home, no matter how prettily it is decorated. It's imperative to have enough natural light coming into your living space – with high ceilings and open layouts designed to provide any room with extra breathing space!
To help you add some glamour while also serving as a beautiful backdrop for your living area, grey is an easy choice that will carry throughout each room in your home. You will want to strive for effortless and timeless decorating elements and features that provide a simple but elegant look when choosing which neutral color scheme in your home comes next!
Industrial living room decor with bright yellow color accentuates the interior space. Unfinished concrete ceiling with distress light takes the whole vibe of the lounge to another level.
4. Modern Industrial Farmhouse Living Room Ideas
Farmhouse is probably one of the hottest interior style trends in the past decade that you should go for. Industrial farmhouse is the blend of classy and sleek farm style with a classic industrial touch. And we are here to help you lift up your everyday style with this amazing trend!
Industrial farmhouse style living room decor includes some charming, warm, black metal objects and other dramatic elements that can add an entire new personality to any room or space. Adding Mid-century modern flair to enhance the vintage look of old factories and warehouses. 
5. Rustic Industrial Living room Ideas
Inspired by nostalgic design trends and the proven timelessness of rougher, harder-edged lines and surfaces rustic designs have taken the decor world by storm. As of recently modern yet rustic industrial decor, it is gaining more momentum with its appeal of simplicity, its styling that features unfinished lines, and unrefined mechanical ingenuity.
To get this industrial look, go with a white-washed brick wall, metal accent chair, metal book storage shelf, and coffee table.
To create a cosy or rustic industrial look, you can use exposed wooden beams for living room interior design. Exposed beams add a unique and special touch to your small living room. Pick some coffee table decor elements, bamboo furniture and wall hanging that injects character to living space.
6. Modern Industrial Living Room Furniture Ideas
Let's take a glimpse at some typical furniture pieces one will find in industrial-style living rooms. There are so many ways to create an industrial-style living room within a house, but there are a few essential accessories, furniture and decors that will really put you one step ahead of the game. Like,
Metal furniture-

Metal Storage Book Shelf

Leather Sofa

Accent chairs

Floor Lamp

Coffee table

Rolling table with wheels
 7. Metal furniture-

Metal Storage Book Shelf
Elegant industrial touch: if you are looking for shelving storage that looks stylish in the living room and the kitchen, go for metal shelves for book storage or anything in the lounge or the kitchen.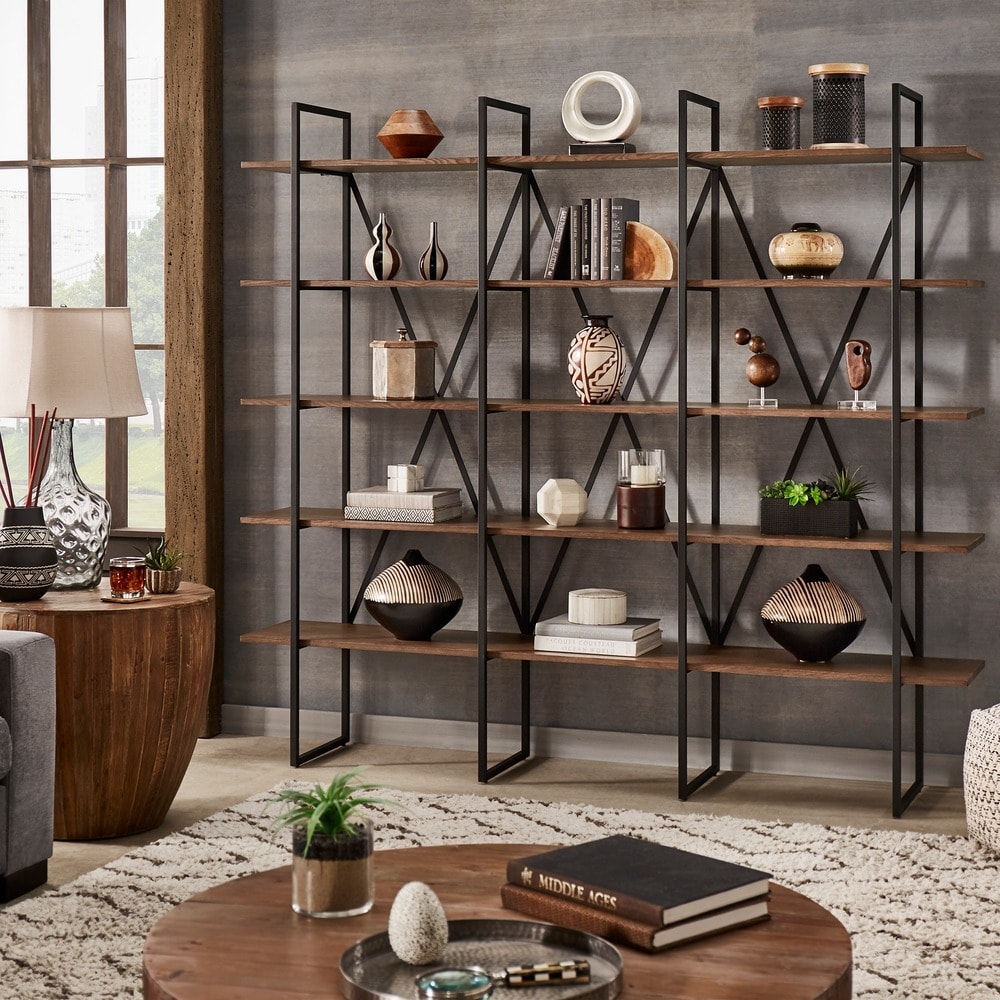 8. Leather Sofa
9. Accent Chairs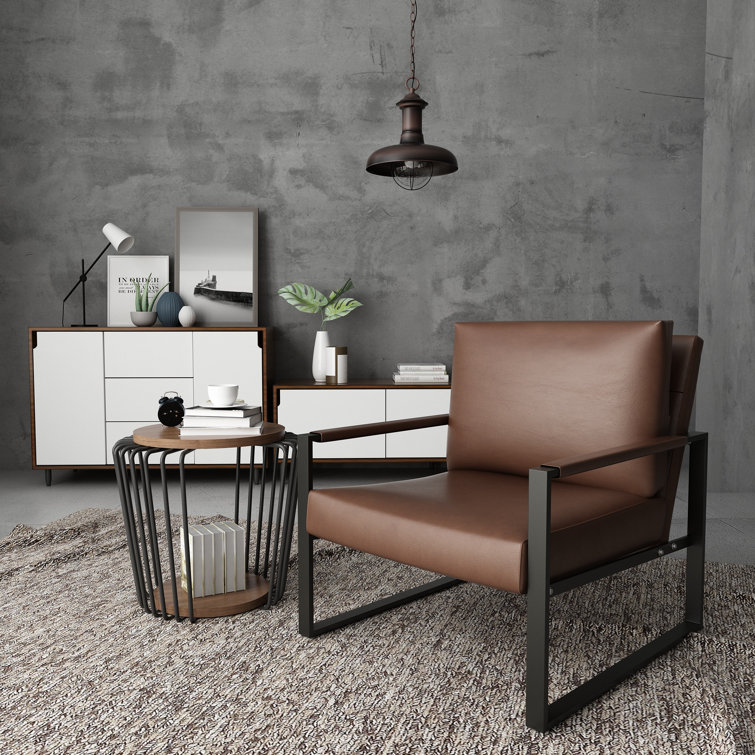 10. Coffee table
11. Floor Lamp
Conclusion
That's all we wanted to share with you about modern industrial living room ideas. All of the designs and industrial living room furniture details that we have shared with you are elegant and stylish, and that's why they will never go out of style. We hope you found them attractive. We would love to hear your opinion on modern industrial living room ideas and hear your feedback on which design you liked the most. Thank you for reading our blog.