A well-designed galaxy themed bedroom decor can transport your child to a world of dreams and imagination. Not only that, but it can also stimulate their creativity and interest in science, and outer space. Remake your bedroom into a cosmic galaxy with these dreamy galaxy themed bedroom ideas. Whether you're looking for an out-of-this-world theme for your kid's bedroom or want to create a peaceful and calming space for yourself, these galaxy-inspired room ideas will help you achieve the perfect look.
In this article, we'll show you 10 dreamy galaxy room decor ideas from starry walls to spaced-themed bedroom accessories, explore the possibilities, and find the perfect decor pieces to bring your galaxy room to life.
10 Dreamy Galaxy Themed bedroom Ideas
1. Glow in the Dark Stars and Moon for Ceiling
Glow-in-the-dark stars  is a fun and creative way to create an aesthetic galaxy themed bedroom that gives you feeling like you are sleeping under the stars. Its soft glow creates an incredible ambiance for relaxation and peaceful sleep. You can also apply this room decor in your kid's bedroom. It is an educational way to learn about astronomy and stars.
2

.

Galaxy Themed Bedroom Wallpaper 
Create a unique and dreamy galactic experience in your bedroom with the stunning galaxy bedroom wallpapers! Transform your space with deep blues and purples, bright pinks and greens, or fun starry nights. The galaxy themed wallpaper is the perfect way to create a focal point in the room while adding depth and dimension to your decor. Get ready for a starry night every single day!
Create the universe in your room with an amazing spaced-themed wallpaper! Peel-off sticker wallpapers will help you create a fantastic-looking boy's room. Galaxy-themed room decor wallpaper is perfect for any boy's bedroom and will instantly add personality and diversity.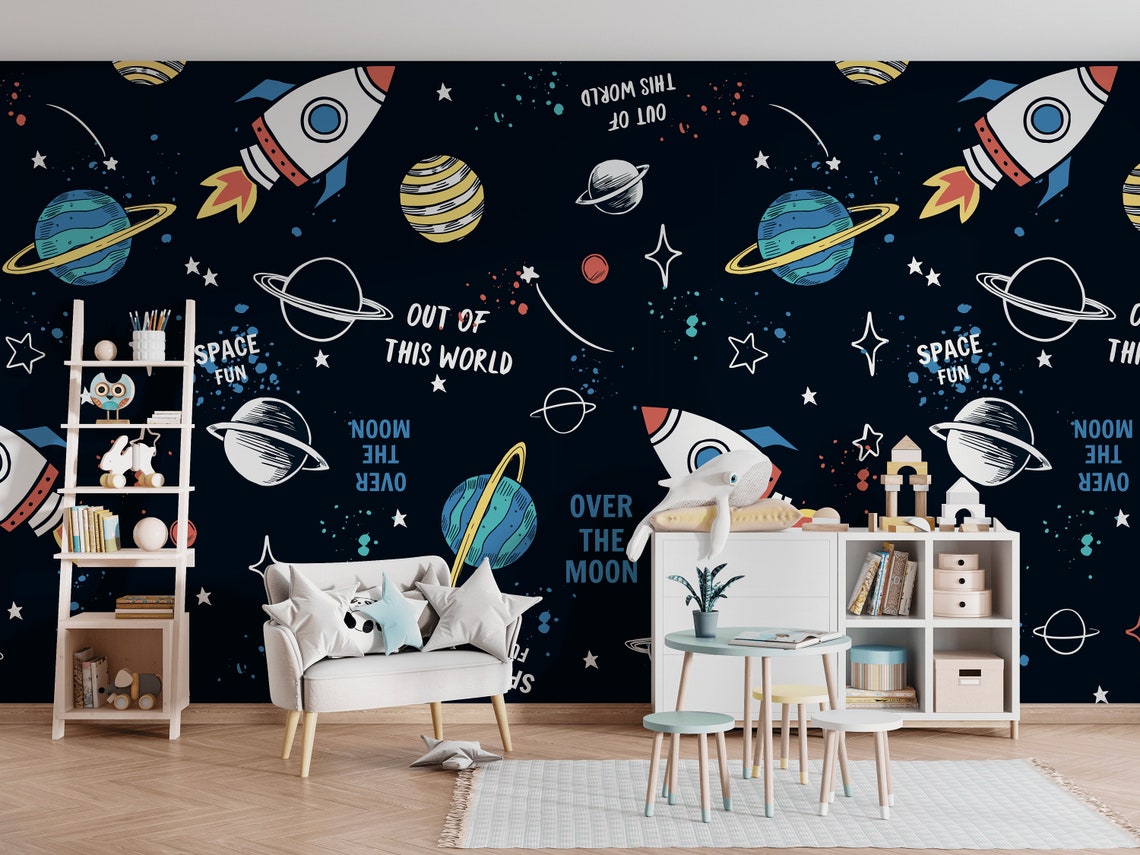 3. Planetarium Projector
Bring the stars to your girl's bedroom! With A planetarium projector, you can create an awe-inspiring and great experience for your child. Create a magical starry night in your child's room with realistic projections of constellations, planets, and galaxies. Your kids will be mesmerized by this incredible galaxy themed room decor – a perfect way to transform their bedroom into a cosmic wonderland.
4. Galaxy Themed Bedroom Accessories
Let your child explore the outer limits of their imagination! Create a universe of exploration with our space-themed accessories. From astronaut figurines to planet mobiles, all you need to transform your child's bedroom into an out-of-this-world experience! Grab a unique style and let the cosmos come to life in your home.
5. Galaxy themed Bedding
Make your child's bedroom a dreamy place! With galaxy-themed bedding, you can add a little bit of space-inspired wonder to their room. Choose from a variety of bold and bright patterns, or go for something more muted and subtle for a calming effect. Add texture with galaxy-themed pillows & cushions and let your child dream of distant galaxies!
6. Ceiling or Wall Mural
If you're feeling ambitious, you can try painting a galaxy-themed mural on the ceiling or wall of the room. This galaxy themed room decor idea can create a stunning and immersive effect, adding depth and interest to the space.
7. Galaxy themed room decor
If you're looking for a dramatic character for your room, use a mural or a delicately detailed tapestry to add depth and excitement, these are the perfect pieces for galaxy-themed room decor. Add some color and personality with our vibrant cushions and throws, and let your imagination take off. Create a one-of-a-kind space that's truly out of this world!
8. Twinkle Lights for Galaxy room decor
Create the perfect galaxy-inspired room with twinkle lights! If you are looking for galaxy bedroom ideas and a dreamy ambiance or to declutter space, twinkle lights are the ideal choice to bring a starry night to your home. Get the best lighting ideas and let twinkle lights brighten up your universe!
9. Galaxy room furniture ideas
Elevate your space with galaxy-inspired room furniture! Upgrade the look of your home with acrylic furniture in either white or grey color – perfect for highlighting your space with ambient lights. Get ready to explore galaxies of style and comfort with the one-of-a-kind furniture!
10.  Colors
A unique color palette allows you to create an ideal cosmic atmosphere in any room. Deep blues, bright pinks and purples are a perfect palette to create an accent wall that will wow your guests and make your home feel like it's out of this world. With neutrals and accent colors, you can make space-inspired dreams come true!

Conclusion
We have shown you ten dreamy galaxy room decor ideas from starry walls to spaced-themed bedding and furniture, don't forget to mention your favorite style that brings the universe to your room.