When you have a tiny house or small studio apartment, it's always a better idea to divide it into zones to make it multi-purpose. A room divider is one of the best ways to divide a room without a wall and transform your living room into a cozy one. It not only maximizes your space but also creates a sense of intimacy and provides secrecy.
Though open floor plans are very demanding these days, they lack a feeling of closeness and privacy. It is way more difficult to decor an open flooring house than a zoned one. If you are looking for creative ways how to divide a room without building a wall, we have covered you. You can use them to change the layout as per your need and create some extra storage space. Pick your favorite one out of these dexterous room divider ideas for studio apartments to make your space cozy, stylish  and budget-friendly. 
Read more interior design ideas here!
How to divide a room without a wall?
The most innovative ways to divide a room without building a wall are through creative means or dividers that break new boundaries. When you want to split your bedroom into two separate rooms, it's essential to think about space and how things can be divided without actually building a wall. Here we have mentioned the best ways to split a large bedroom into two.
Hanging curtains or Blinds

Use of Potted plants

Use Bookshelves to divide a room

Add a sliding barn door

Install Wooden partitions

Widely Spaced pillars

Glass partitions

Use of decorative panels

Fabric Screen

DIY Macrame Divider

Aquarium Partition Wall

Geometric divider

Rope wall room divider

Floral hanging partition wall

Fireplace wall
1.

Hanging curtains or blinds
A hanging Curtains, beads or blinds is a perfect thing you can use to split a bedroom into two rooms. Tiny houses need such items that not only accentuate the area but also keep privacy. This floor to ceiling room divider takes no space at all. A lot of beautifully printed curtains are available online. You can find it quite easily and use it anywhere you want.
2. Use of Potted plants
The easiest way to divide a room without a wall is with a large planter stand or hanging pots. A lot of people think of splitting a room with a wall, but it's not always the best way if you have very tiny space also it is not cost efficient. The best way to divide a room is to make use of a plant in an innovative manner.
You can either go with this plant room divider idea to split your private and public zone. This planter stand is the perfect fit to create a visual barrier between the space you want to divide.
3. Use bookshelves to divide a room
Freestanding bookcases and shelving panels are the perfect and effective way of splitting a space or partitioning up into different rooms or areas. They create a visual barrier while providing new storage space for books. This freestanding bookcase room divider brings light into your room and brightens up the whole area.
4.

Add a sliding Barn Door
Today sliding barn doors are becoming increasingly popular within the design industry. Especially in this age of rural charm, they offer a rustic spark, something that we love because it makes a room feel cozy and warm. If you are thinking about a temporary wall. Here you go. This classic barn door not only saves space but also provides physical separation between areas.
5.

Install Wooden partitions
This wooden partition wall design is ideal for dividing your living room for privacy and hiding unsightly objects or areas. It distinct your room or area without building an actual wall. It displays the entire space as some decorative accent.
6.

Widely spaced pillars
Go simple, go minimal. Wooden slats are the most modern partition wall idea to enhance your living space. This room divider not only segregates the area also adds contemporary and minimal touch to the interior of your house.
7.

Glass partitions
Simple lines and elegant details are the holy things that make a space timeless and minimalist yet attractive at the same time. Modern glass room dividers with frames and without frames make an eternal space that speaks itself. The sleek appearance of this glass divider is becoming popular in modern office designs and large open house plans. It allows light to get into space makes it more bright.
8.

Use of Decorative panels
This decorative room screen is light, airy, and intricate at the same time. It brings sophistication and class to your space. It is the perfect choice to separate the living and dining area while providing some extra privacy to your guests.
9.

Fabric screens
As we all know, no one wants to share a room with a sibling. By chance, you're not so sure about how you're going to divide the bedroom. Go with this one. Utilize it for one or more purposes.
A fabric folding screen pokes you to drop your clothes on it rather than dump them on a chair or any stool. So avail this opportunity.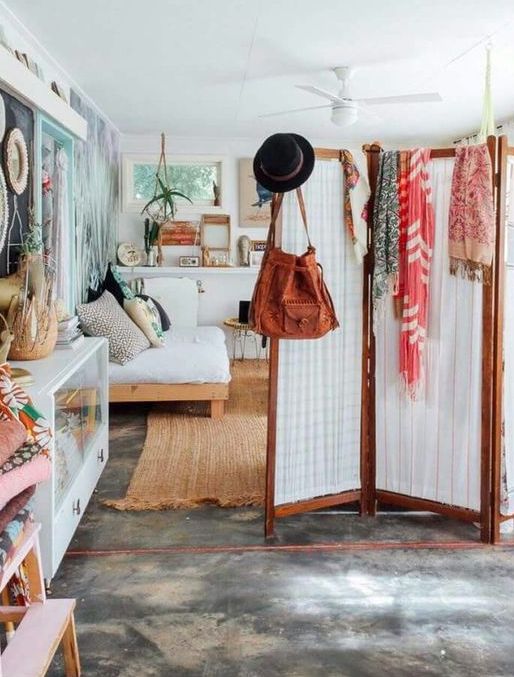 Read Creative  kids room ideas here!
10.

DIY Macrame divider
The macrame screen is chic, neutral, and minimal with a wooden frame. It adds an eclectic or boho flavor to your bedroom or in the studio apartment.
11.

Aquarium Partition Wall
Let's say you have a tiny house or apartment that does not allow you to make a permanent wall. You are struggling with how to divide a bedroom into two rooms, go with a temporary divider. The aquarium partition wall is a great addition to enhance your interior aesthetics.
12.

Geometric divider
A geometric divider reflects your style and is a unique piece of furniture in your house. To build this DIY geometric room divider, you will need wooden slats of plywood to make the frame and its 2×1 lumber to complete this look.
13.

Rope Wall Room divider
Rope walls are a practical yet trendy & innovative solution without spending serious money on building a permanent wall. It is a simple design idea that everybody will love to have to enhance their interior space. To achieve this modern and elegant look, you will need rope and two wooden logs, one for the ceiling and another for the floor. Screw the string in these wooden logs after boring holes in them.
14.

Floral hanging partition wall
Another stylish and elegant room divider that breaks all boundaries is the floral hanging screen. Plenty of designs are available online. Pick your favorite one. Drill holes in the ceiling and hang the decorative panels with the help of hooks and studs.
15.

Fireplace wall
A double-sided fireplace room divider feature sticks out like a sore thumb these days. This aesthetic piece not only offers warmth but also adds glam and expensive touch to your living space. Combine your media wall with this fireplace to get triples of profit. Divide your living room from dining with this design element.
To conclude, walls are no longer the only way to divide a room. We have shared multiple creative room divider ideas to separate spaces without the need for physical barriers. Comment down below and share your thoughts, which one is your favorite.