Wainscoting is a great way to brighten up and add a formal flair to your small living rooms, bedrooms, dining rooms, stairways, hallways, an in bathrooms , and it takes no time to install at all. But what exactly is wainscoting?
What is wainscoting?
Wainscoting or just wainscot is a decorative wall treatment of wooden moulding or panels, trim that often contains a pattern or a more complex design that fits the shape and length of the wall.
Wainscoting is a perfect design element to use throughout your home and often adds a contract between the top and bottom portions of walls. People started it in the 18th century to cover the wall from damaging back of the chair that ultimately helped them to insulate a room. Now, people are using it as a design element and adding character to their interior space.
You can create an entire wall to surround your living room, or you can create separate areas for different functions. It can also add texture and dimension to a room. If you're trapped trying to figure out if wainscoting in style 2021 to use in your space. Stick to this post we have mentioned the ultimate guide of some really cool wainscoting ideas for living rooms and get inspired to add an elevated touch to your house interior, keeping the space comfortable and cozy.
Does wainscoting make the room look Smaller?
Many people feel that wainscot will make their space smaller. Wainscoting gives a feel to your living room, smaller or larger it really depends on the height of the panels you use and the color you prefer to paint on them.
How high should wainscoting go for any room? It's a tricky question, right? Consider this traditional thumb rule. It states that "1/3 of the wainscoting of total height of that specific room" including the cap or any molding.
It means, if you have a lower ceiling height of 8 feet, you should go with the lower wall moulding panels, the ideal height of wainscoting for that space will be 32 inches. Height of wall moulding panels increases with the increase in ceiling height.
Modern wainscoting ideas for Living room
The living room has always been among the most versatile rooms in the house. It's where you spend most of your time, and it's also where you entertain your guests. It's the place where you spend your days, and it's where you relax. It's your place to unwind and get away from your everyday life. And that's why it makes sense that it's where you decorate and where you get the decorating ideas.
One of the most modern wainscoting ideas for living room is the usage of wooden panels to cover the wall behind your fireplace. Typically, it is used when you don't want to paint the walls or you don't want to put wallpaper on the wall behind the fireplace. It does tend to be a little more expensive than painting the walls and placing wallpaper over the panel, but it is a great way to add a little excitement and energy to a living room design.
This minimal and neutral grey wainscoting living room is an ideal pick for small living rooms. That applied wall moulding is not shrinking up your space.
The low height framed contemporary wainscoting gives volume to walls and conveys a feeling of openness because of its neutral color of walls that sets the tone of elegance of your living room.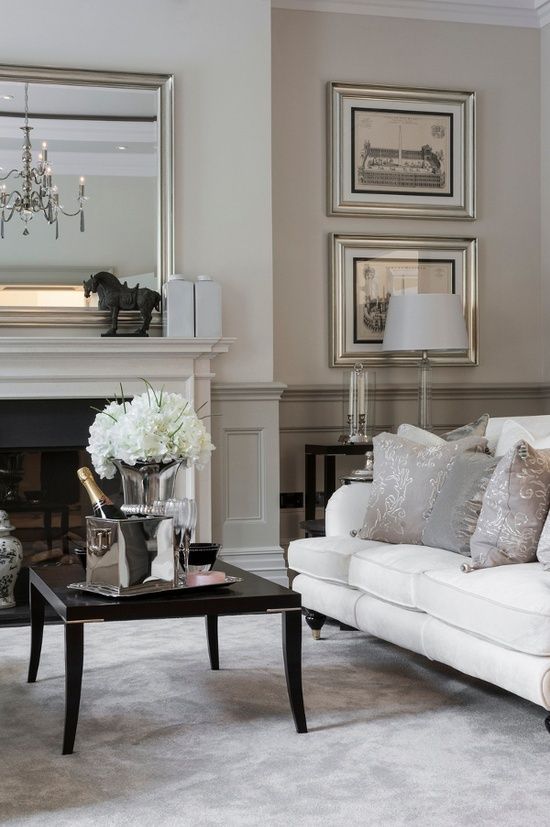 Bring more life to your living space with some experimentation. Green wainscoting and wall paint match each other and are inseparable in this living room design. Mustard sofa accentuates the living space because of its bright pop color. Get plants to make space breathable.
Modern Board and batten Wainscoting
Think out of the box with a wallboard and batten wainscoting. Paint it with some bold color and add a lethal touch to your interior space. It is peeking like a 3d wallpaper because of the depth of divisions of the board. While, bright yellow wall art adds a pop-up effect, giving the room an essence.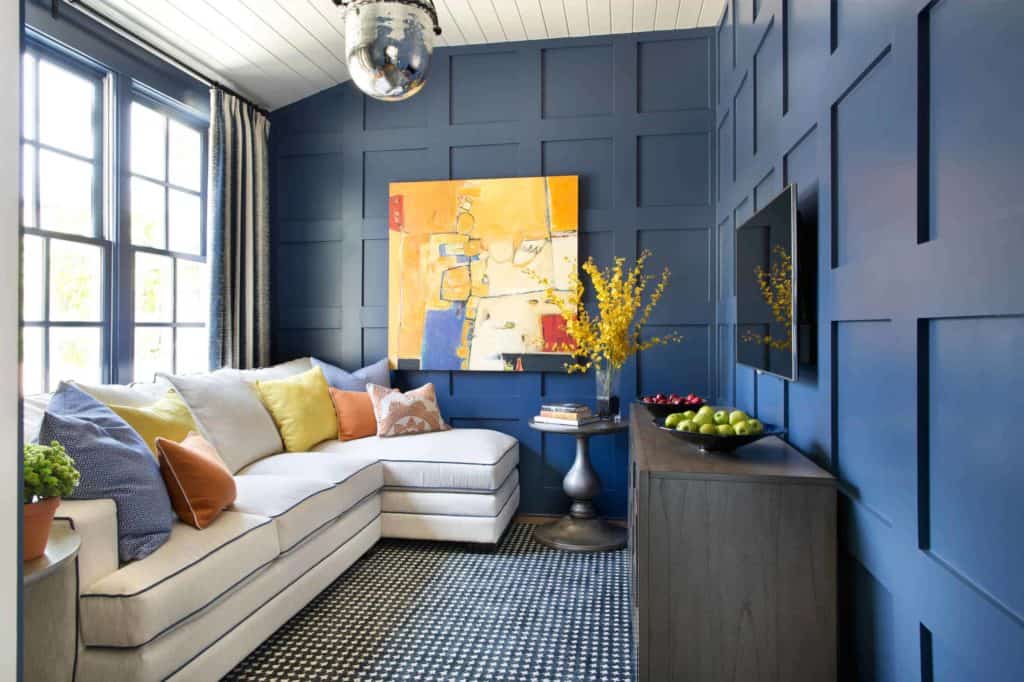 Tall modern wainscoting ideas living room
Use of tall wainscoting with high windows bring brightness to living room.
Rustic wainscoting for living room
A great way to brighten up your small room is to add a little splash of color. This can be achieved by using a bold wallpaper in a contrasting color to the rest of the walls in the room, or a neutral color to create a warmth in the small room. 
Rustic wall panel wainscoting will bring a formal and luxurious feel to your room. We have pictures of wainscoting in living rooms.
Modern Wainscoting ideas for dining room
Go bold with full-length wainscoting walls, add drama into your dining area, and get inspired with this idea of using dark green color on walls and jet black color into its contrasts on the ceiling. It is really a crazy approach to do so.
Tall white wainscoting in dining area will break the boundaries with this maroon color that accentuates the rustic space.
Embrace your fierce design sight by pairing a floral wallpaper with a painted wainscot base. This combination gives the dining room a bright and welcoming touch.
Wainscoting ideas for bedroom
Blue and white colors are alternate names of peace and calmness. And it is the only thing that everybody wants after busy life and schedule. Inject some serenity and relaxation into your bedroom with these color schemes. Below we have mentioned some designer wainscoting accent walls ideas that will help you to pick your favorite one.
That pale blue shiplap wainscoting will add serious touch to your farmhouse bedroom.
If you are a moody person then this floor-to-ceiling wainscoting design idea is for you. It will give a stylish and moody touch to your bedroom.
For kids bedroom go with simple, less drama and easy approach. This vertical panel wainscoting is less fancy yet cool idea for kids bedroom as it protects wall from drawings.
Read out here more about bedroom decor ideas!
Wainscoting ideas for Entryways and hallways
The entryway or hallway is the first thing people notice when stepping inside, and it also reflects your taste and sets the tone and style of your whole house. Pick your chance to move your guests with these wainscoting ideas for entryways.
This beadboard wainscoting will bring character to your home. Add some hook to hang your extra stuff, coats, bags and hats.
Bring sophistication to your entryway with this idea of having a small stool and planter nearby that will add freshness to your house's first step.
Wainscoting is not always rectangular. A curved wainscot can also do wonders for you. Add graceful personality to your room or entryway by using this curved wainscoting. 
Read more here how to style your hallway?
Use this Crisscross wainscoting hallway design that focuses you on the way of the house. It will bring interest, texture, and dimensions to your wall.
Wainscoting ideas for Stairways
Utilize this vivid detail to add much more pull to your stairway area.
Frame moulding pushing up the staircase also complements this line wallpaper by adding a little texture to the wall.
Modern Wainscoting ideas for bathrooms
Modern wainscoting is a decorative feature that breaks the monotonous of a wall. It is an ultimate substitute of titles, especially in those bathrooms where you have seepage or water damage to a wall.
Coastal color adds a sense of uniqueness to this bathroom, along with peacock wallpaper that completely transforms the bathroom into a new definition.
Let's break the stereotype of elegant white bathrooms. Go with some bold and smoky wainscoting panels that complement your wooden floor also add serious attraction to your bathroom. A dark color will not cause darkness because it has a large window, letting light come in and brightening the bathroom. Throw a rug on the floor and add some coziness too.
Add formal flair to your industrial bathroom with this tall panel wainscoting without an overwhelming approach, injecting some timelessness and a sense of sophistication in your bathroom.
Add ledge on top of your beadboard panels, and it will provide you with some extra storage for displaying some planters/pots. Display wall decals above wainscoting to break the monotonous of wall. One more thing you should keep in mind, the height of the paneling goes high enough to the wall, so it may not hit your head.
Never underestimate the power of the combination of black and white in a room. This power room is another game-changer with painted matte black color on wainscoted base, while monochromatic leaves wallpaper on top of the wall adds character into this small bathroom.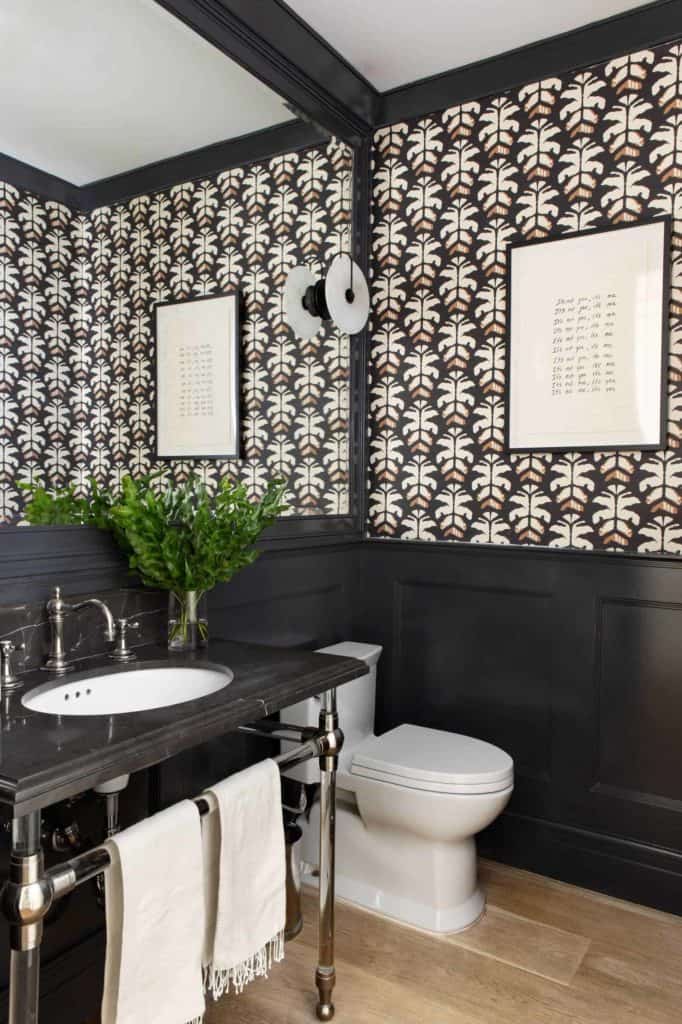 Wainscoting Ideas For Home Office
Don't overthink with white square wall wainscoting. It will go unduly well with this rustic, bold wallpaper to add a sense of serenity to your home office.
Go less drama, more professional with grey wainscoting.
Wooden panels in warm shade deeply bring coziness and warmth with dark grey walls to your home office.