Many small spaces are left unused because people don't know how to utilize them. Under the stair is one of such spaces that people often ignore. But, if we can create proper storage systems, this space can be used to store items or to hide the stuff that you don't need to see.
This post shows you the best under stairs storage ideas for small spaces and how to utilize this awkward space of your home to hide your stuff out of sight.
Unique Under Stairs Storage Ideas
Storage ideas for stairs and their design solutions are in demand because many people live in small apartments and houses. And people want to maximize the space. Pick any of mentioned ideas under stairs storage for coats and shoes or to uplift your space.
1.Under stairs closet storage drawers
Used correctly, the unused space under a staircase could work as a way to declutter your home. And more specifically, during this time of year, it's always good to have a plan in mind to store all those wintery clothes, coats, shoes that no longer have any need to be in your closet.
Instead of just piling them haphazardly under your bed where you'll end up tripping over them or finding them when you're looking for something else, there's now a clever way to make better use of that space by creating pull-out drawers with some extra under stairs closet storage.
This is perfect under stairs idea for coats and shoe storage.
2. Under stairs open closet storage 
You can also opt for under stairs open closet wooden hook pegs to hang your stuff right adjacent to your hallway with storage baskets. 
3. Kid's playroom
If you have a hard time finding a small playing area for kids inside your home, it could be because you haven't thought outside of the box yet. A small space below the staircase would be the perfect place to set up your kids' playing place! It is great under stairs storage design solution. 
4. Reading Nook
Perfect for readers– and terrific addition to your home library, where you can catch up and read your favorite novel on the comfortable couch under the stairs. With your beloved reads right at your fingertips, sit back and enjoy! Kids love to have such space where they can read, write and hang up at the same time. Fill it with pillows and a throw blanket to finish off the space. 
If  you are looking for girls room reading nook ideas read here!
5. Home office
Today's trends are changing so quickly that it is important to feel comfortable in your work environment. It is recommended to have a designated office area within the house where you can go when you need to accomplish tasks free from distractions. It will not only help with productivity but also provide additional space for expansion and privacy as well as a comfortable place to take short breaks throughout the day.
In that case – use the under stairs area by setting up some desks and seating underneath stairs so that there is the utilization of unused space of your home and at the same time you get a home office as well!
6. Pantry under stairs storage Ideas
Alter your staircase into a restful pantry, perfect for holding dry goods or baking ingredients. You can get this under stairs pantry by adding a track to the bottom of your current stairs and sliding a sturdy wooden door into place over the top of it. In fact, it is space-saving solution because it does not need any space inside the room.
7. Under stairs dog house
If you're a pet lover, you need to try this stuff out. Your pets will love living under the stairs in this great little kennel that helps keep them cozy and safe! 

8. Under stairs Bar
Find a new and better way to hold your favorite wines under the stairs. You can put your wines below the stairs in a controlled temperature environment with some LED lights to attract your guest in the first step they get into your space. Like this one.

Go with an open bar and small space under stairs wine storage that connects with your living area.
9. Under stairs kitchen storage ideas
If you don't have enough space for the kitchen, treat the under stairs area as a small kitchenette. Here, you should have at least: a mini-fridge, an induction cooker, and a microwave. It's not large, but it'll be enough to prepare some tasty meals in no time. It is unique under stairs storage idea.
10. Plants under stairs
Plants make us breathe, put a lot of shade-loving plants under stairs space and make your space breathable. Use open shelves to display your favorite plants to bring a boho vibe inside your home.
11. Chic bathroom under stairs
The under stairs area of your house is often a bit of an afterthought. However, it's a great place to create a small powder room or even a cloakroom for your convenience – prevent guests from having to go through your bedroom to get to the bathroom! We feel that the under stairs storage space can seem like a bit of a dark, cramped nightmare… but with the right design approach and colors, you can turn it into a valuable asset in your home.
12. Under stairs

laundry
This is ingenious under stairs storage idea for laundry. It is a place most of us want to keep out of sight, and everyone is not fortunate enough to have a separate laundry room. in that case, utilize your under stairs area as laundry room. And it takes no larger space. Place your washing machine and dryer side by side or above one another. Add open shelves to store launder baskets and other cleaning chemicals.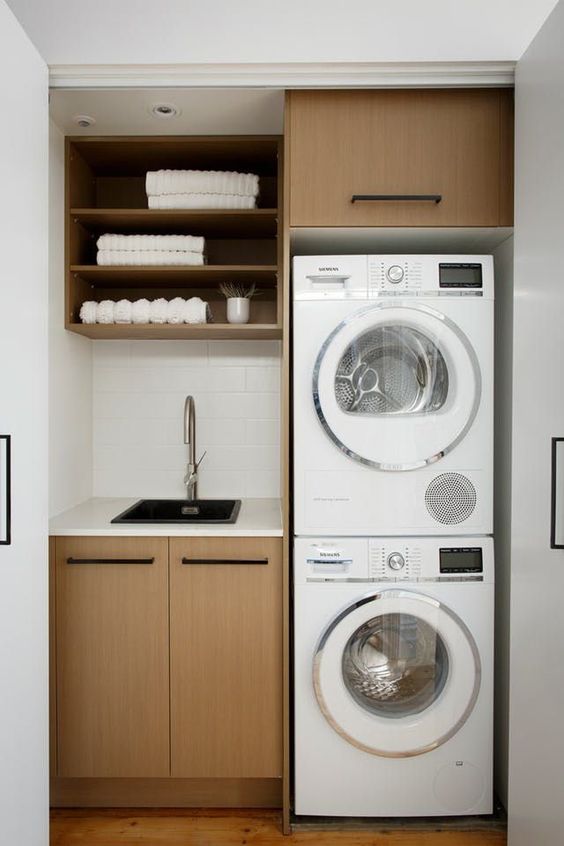 We have mentioned different under stairs storage ideas for you to pick from to make the most of your space and declutter your house. Also, make your life easier by finding some of the best storage ideas under stairs. Don't forget to mention your favorite pick you would like to use in your dwelling.